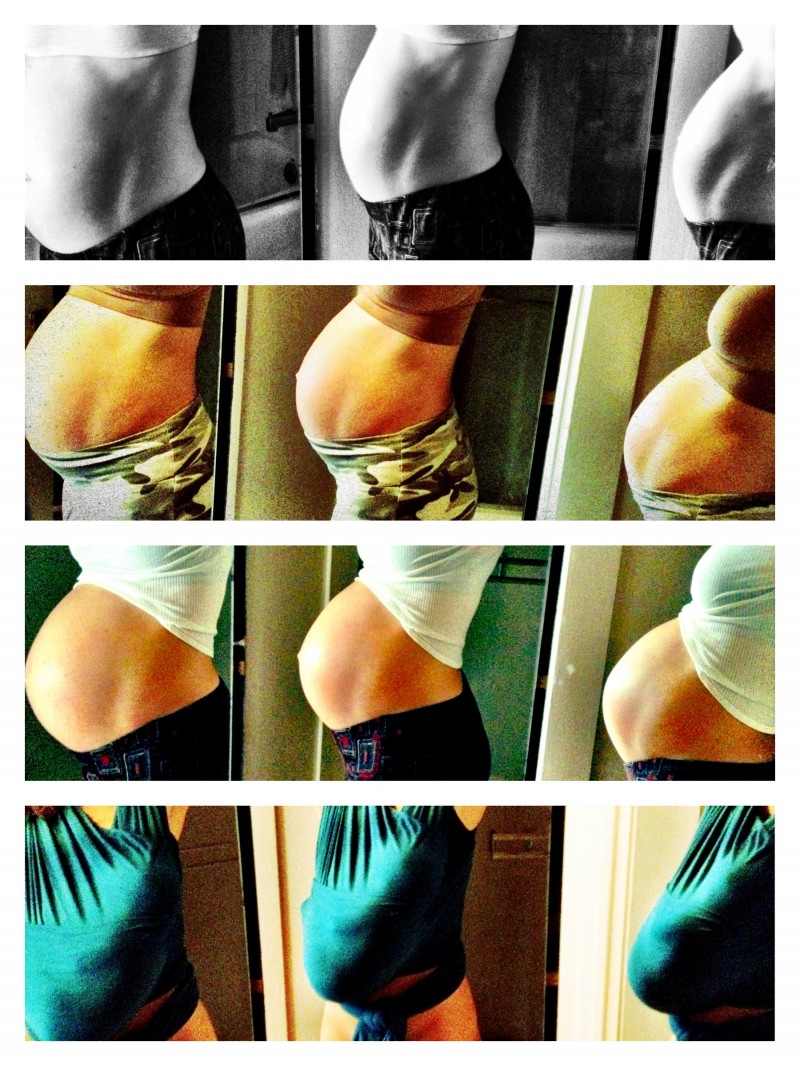 August 5th, 2011
I get a call that my mentor, Susan McLain, has died. I get off the phone and cry so hard that I start my period a week early. Natural family planning screwed up.
August 20th, 2011
I go to Susan's memorial at Cal State Long Beach. I am pregnant but do not know it. Later that day, Susan's daughter, Nile, is carrying around a due date calculator. Apparently, Susan died on the day she was conceived.
September 12th, 2011
I finally pee on a stick and learn that I'm with child.
The dates get a little fuzzy from here on out, but I call Nile a few weeks later after my first appointment with the midwife and tell her that my due date is May 15th.
She says, "Ten bucks says you give birth early on my mom's birthday. April 27th."
Funny…that was my parents' wedding anniversary.
We go in for an ultrasound around Christmas time and find out that we're having a girl.
April 20th, 2011
Baby still hasn't turned. Her head is pushing up into the left side of my diaphragm as she grows. Major tingling and numbness if I fall asleep on that side. Someone tells me about spinningbabies.com. I spend a lot of time inverted over the next few weeks, trying to get her to turn. No luck. And there is no doc in San Diego who will attempt to deliver a breech baby vaginally.
April 24th, 2011
8:00AM:
I call UCSD to see if they have room/time to do an external cephalic version.
Yes.
Okay.
I post on facebook:
My playlist this morning as I go in for an external cephalic version to try and turn my breech baby. Cross your fingers people!
"Picture me rollin'" – Baby Humphrey (stolen from Seth Green's character in Can't Hardly Wait who stole it from Tupac I think?)
Total Eclipse of the Heart – Bonnie Tyler
Turn! Turn! Turn! (To Everything There Is A Season) Byrds
You Spin Me Round (Like A Record) Album Version
9:00AM:
Ron and I arrive at UCSD. We invite several students to observe the procedure. I relax and open my mouth, hoping it will relax and open my belly. Two docs, one on her head and the other on her bum. Half way through the last try, one doc digs into my inguinal ligament so hard that I ask for a pause so I can try to relax it. He says, "No, this is it. It's happening now."
12:00PM:
Another facebook post:
We did it! 50% success rate for the procedure in general, but lower odds for me due to the following four factors: 1. First baby, tight uterus 2. Anterior placenta 3. Her legs straight, putting her body in a jacknife position instead of a ball….not so good for rolling, and 4. Adequate but not ample amniotic fluid.
Me: "I know this sounds crazy, but could I go upside down for a minute before the procedure to get her out of my pelvis?"
Doc: "Sure. We'll be back in ten."
Good times…Dr. Hebert rocks.
Now we all need to cross our fingers that she stays there. I'm kind of afraid to move right now!!
I go for a walk. I travel about one block and the pain in my urethra is so great that I turn around. When I get back home, I start to look around at how many things are NOT baby ready. I go on Craigslist and find a cedar chest in San Marcos. I call to see if she can pick it up before she teaches the next day (yes), then call the guy to see if he still has it (yes), call Anya back with instructions and directions, and continue buzzing around the house.
April 26th, 2011
2:55AM: I wake up with a tiny tug in my belly. Something happened. A then a little water…I wake Ron up right away and say that I think my water just broke. I go to the toilet, more water. I am almost expecting to see blood because of the risks involved with the whole manual turning process. No blood. Good. I come back to the bed and squat at the foot of it, almost as if I'm expecting to push any minute now. In hindsight, this is hilarious. I'm shaking, doing a lot of math in my head about what this means. Still looking for blood, Ron is both trying to calm me down and calling UCSD. How far along is she? (37 weeks) Is there any blood? (no) Where was she planning to deliver? (Best Start Birth Center)
Okay. You can call them!
5:00AM(ish):
We head over to Best Start. Midwife checks to see if my water has actually broken and gives me a non-stress test for 25 minutes, mostly because of the whole turning thing. Baby is still head down. I also find out that my favorite midwife will be on call for the next 24 hours. All good news. She tells us that we have roughly 24 hours to deliver and tells us to go home and get some rest.
7:30AM-9:45AM(ish)
We try to sleep. It's a sunny day and we've already moved the bed into the living room so it would be closer to the kitchen and bathroom, so there's no escaping the sunlight. I'm too excited to sleep. Each little cramp wakes me up, not because it hurts, but because I'm waiting for it to be big. At this point, I'm still certain that I'll have a short and intense labor.
10:00AM(ish):
Ron gets up and starts making, packing, and trying to get me to eat, food. He makes work calls, runs around, (kinda timing contractions which are starting to get pretty sharp and super irregular), kinda checking in with me now and then (where I should've said, "Stop everything and come be calm with me." Regret #1)
I try the bathtub and almost can't find my way out.
I make a playlist that I never play (Regret #2).
11:30AM-4:00PM:
Every contraction has its own personality. There's the, "Oh beautiful for spacious skys….", the fuck fuck fuck, the one where I was bent over a bit green exercise ball in a doorway, banging my head on the frame, the quiet one, the one where I named everything I saw (maroon sheet, wall, pillow, hamper, bed, dresser, window, fucker), the squirmer, the ahhhh, the AHHHHHH!, the one where I tried going right into the pain (Regret #3), and the squirmy one.
The apartment is a disaster.
I finally ask Ron to call the midwife because I think that, if I wait much longer, I won't be able to get into a car. She says she'll meet us at Best Start in an hour or so.
5:00PM:
My labor was very offended by the car ride. It hurts worse, then stalls out.
When we arrive I am the only one in labor, so I can choose any room I want. I go to the downstairs room on the right and Ron convinces me that he upstairs is bigger and better.
Midwife checks me. I'm only three centimeters dilated and she can't admit me. I didn't know there was a dilation requirement. How the fuck did I miss that information in 8 months worth of appointments? She gives me a little homeopathic dose of Black Cohosh and sends me to my acupuncturist/healing genius, Adrian Bean, L.Ac.
5:45PM:
Still wearing a diaper to catch my water leak, I arrive at Adrian's office. He gives me two treatments. The first is so I can rest, and the second is to (explosion sound).
I'm lying on my side, feeling like I need to throw up, holding Ron's hand. He's looking tired. I sleep/dream a little.
Why did I not call Adrian at 6:00AM? (Regret #4)
7:00PM(ish):
We leave Adrian's office and call the midwife. She tells us to go home. What? Fine.
Labor is getting even more angry about all the car rides (Regret #s 5 (to birth center), 6 (to Adrian's office), 7 (home), 8 (back to birth center), & 9 (to SPOILER ALERT: hospital).
7:30PM-11:00PM:
To be continued…