LIVE is Kristopher Apple, Dina Academia Apple, Liam Clancy, Anya Cloud, Ron Estes, Eric Geiger, Jess Humphrey, Mary Reich, Karen Schaffman, and Leslie Seiters. Former members include Yolande Snaith, Allyson Green, and Justin Morrison (founding member and frequent guest).
LIVE performed "in" Jennifer Steinkamp's Madame Curie at the Museum of Contemporary Art, San Diego. Video by Rebecca Salzer.

Excerpt from an informal performance we did for
Joe Alter's Aesthetics & Criticism class at SDSU. Fall, 2014.

Excerpt from our performance in Landau, Germany in 2011.

These are excerpts of me in various LIVE performances in San Diego, Tijuana, and Los Angeles during 2009 & 2010.

LIVE is a group of artists with whom I have been practicing every Thursday for the past 6 years. What we do was initially inspired by Barbara Dilley's Contemplative Dance Practice. We used to sit for 20 minutes, solo warm-up/tuning for 20 minutes, group warm-up/tuning for 20 minutes, and then we took the last hour or so to make something…practice, perform, practice performing, audience, compose, improvise, sing, play, "play", dance, talk, try to do nothing, witness, scream, all or none of the above. It's pretty rare that it goes exactly like that, but some configuration of those pieces happened every Thursday. After a few hours of that, we ate lunch and discussed/argued/reveled in whatever happened.
A few years in, we decided to attempt to practice in front of an audience. We have since performed 15 times or so in three countries. Our score usually involves some kind of clock or alarm to let us know when it's been an hour. Otherwise, the work is made in the moment, supported by our shared history. Performance practices are also followed by dinner and discussions/arguments/revelries.
Over the years, the first three 20s began to blur more and more until almost no one was ever sitting. A little over a year ago, the group began to shift. A few moved on, and a some new artists joined us. While recalibrating, we built a website and began working with scores in practice.
This is Karen, Leslie, me, and Mary in practice.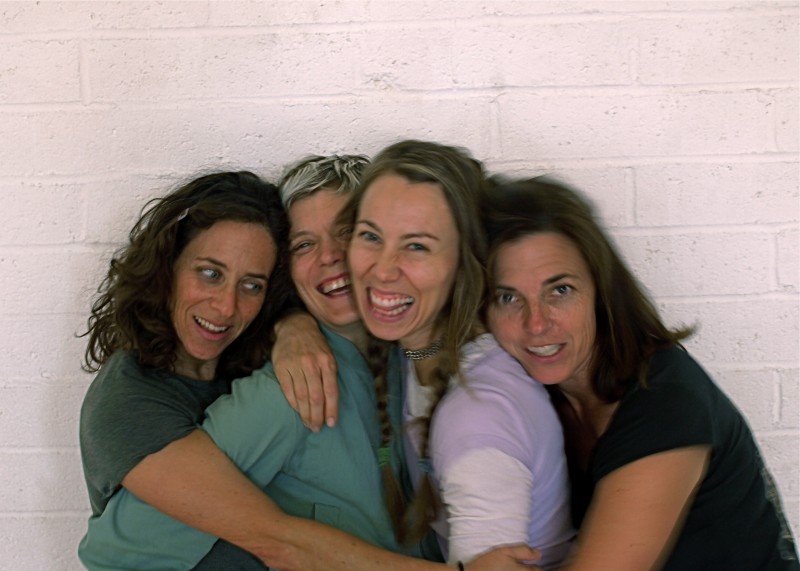 Mary, me, Liam, and Karen in practice, 2009ish

Below are photos taken by TEO (photographer Tim Richards). I am so grateful for his presence in the community and his beautiful photos.