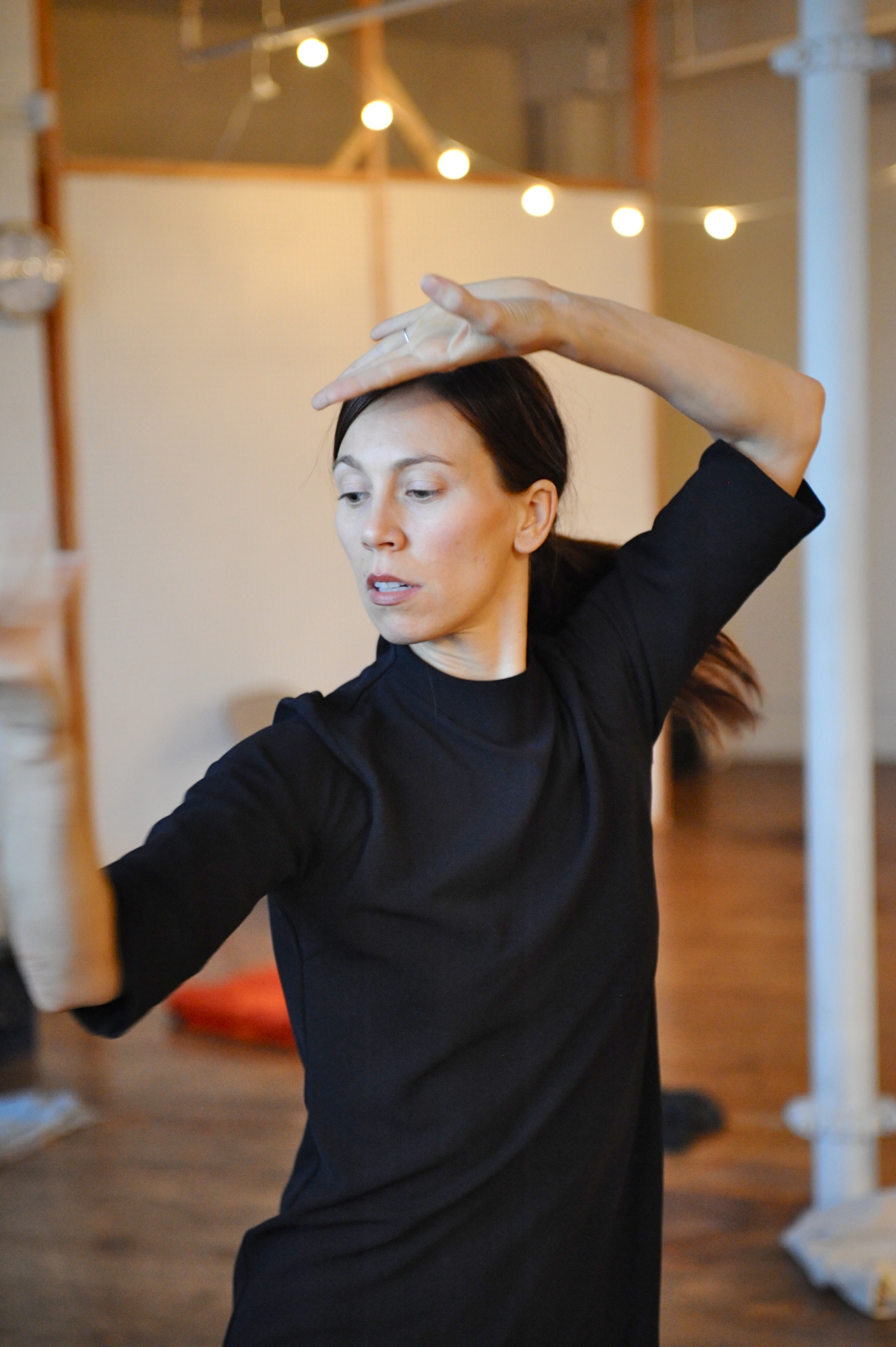 Jess Humphrey (MFA, CLMA, RSME) is a dance artist and teacher. Her movement research began in childhood with competitive gymnastics and continues today with dancemaking from various, shifting perspectives and states of body~mind. Her dances are expressions of her engagement in contemplative and somatic practices, Integral Theory, and reverence for those within whose lineages she moves.
She has an MFA in Modern Dance (with a focus on contact improvisation and creative process) from the University of Utah and a BFA in Dance from California State University, Long Beach.
An intensive study with Deborah Hay in 2009 changed her life and continues to inspire her every move.
She collaborates with Eric Geiger (UCSD) and Leslie Seiters (SDSU) in multiple contexts (including a trio in progress with Deborah Hay), and has shared in the creation of several evening- length dances (as director, collaborator, and/or performer) over the past eighteen years with other artists including Gabor Tompa, Sara Shelton Mann, Guillermo Gomez-Pena's La Pocha Nostra, gogovertigoat in the work of eunkyungkim, Nugent Dance in Los Angeles, and Core Dance Theatre in Idaho, and LIVE.
Years of practicing and performing spontaneous dancemaking with LIVE (Kris Apple, Emily Aust, Liam Clancy, Ron Estes, Chloe Freeman, Eric Geiger, Justin Morrison, Nhu Nguyen, Mary Reich, Karen Schaffman, and Leslie Seiters, and Aubrhe Yruretagoyena.) continues to shape her work, and she remains engaged in that weekly practice in ways that are still very much aLIVE. 
She completed the Integrated Movement Studies (IMS℠) program and was certified as a Laban/Bartenieff Movement Analyst (CLMA) by Peggy Hackney and Janice Meaden in 2006. She is currently a Registered Somatic Movement Educator (RSME) with ISMETA (International Somatic Movement Education & Therapy Association). She is currently engaged in The School for Body-Mind Centering®'s SME (Somatic Movement Educator) program with primary teachers Amy Matthews and Mary Lou Seereiter. She has also studied the Feldenkrais Method® with Seiters, Geiger, and Kristen Baum Wilcox and Alexander Technique with Marjean McKenna and Eileen Troberman. In 2002, she certified in Pilates with Karen Clippinger and Rael Isacowitz (Body Arts and Sciences, International) and has taught in dance, physical therapy, and fitness settings throughout the US.
Jess continues learning through teaching in the Dance Division of the School of Music and Dance at SDSU. She has also enjoyed teaching and directing work with students at the University of California, San Diego, California State University, San Marcos, and MiraCosta College, and co-facilitates the weekly contact improvisation class/jam in San Diego at Stage 7 School of Dance with other members of the local Contact community.
Jess continues to learn by teaching in the Division of Dance at San Diego State University, was co-facilitator and teacher at Practice: a dancing intensive in San Diego for two summers, and taught at the Winter Intensive for ADF. She also teaches contact improvisation and co-facilitates the weekly Contact jam in San Diego at Stage 7 School of Dance with other members of the local Contact community.